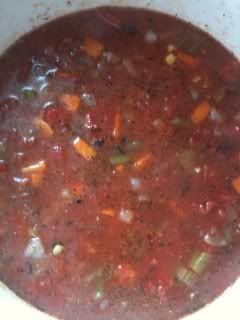 With Lent here I am looking for easy, simple, vegetarian recipes. I decided to make a huge pot of vegetable soup for my lunches throughout the week. It turned out wonderfully and is very healthy. I did not measure anything, so forgive me for that...
Chop up two medium onions and toss in 2-3 minced garlic cloves (or more!)
saute until translucent and fragrant
Dump in a large can of organic diced fire roasted tomatoes (for extra flavor) with juice as well as a large can of organic chunky tomato sauce (I used Muir Glen)
Fill up can with water and add to pot...twice or three or four times if you don't like super tomato-y broth
Drain a can of kidney beans, rinse, add to pot
Add frozen vegetables...I used a soup blend of potatoes, carrots, green beans, okra and other things.
Add pepper, oregano and basil to taste, or whatever spices you like.
Let cook until done.